Huawei Is Going Hard at the MacBook Air With Its New MateBook 13
华为推出新款MateBook 13,目标直指MacBook Air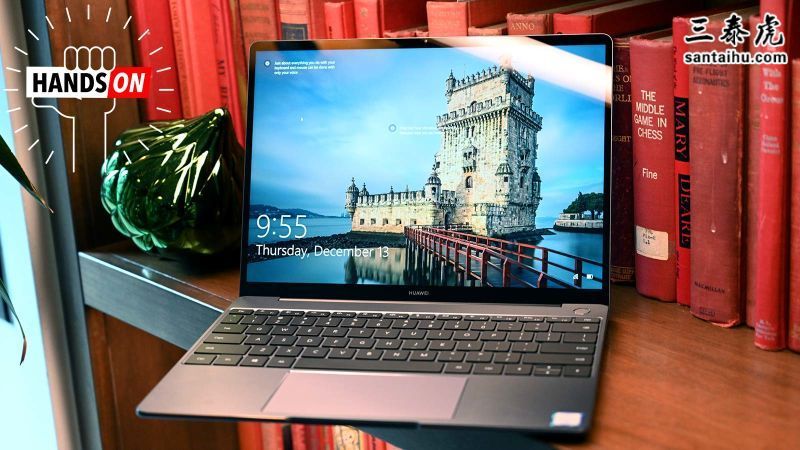 Huawei has only been in the laptop game for a few years now, but following up on the success of systems like the MateBook X Pro, Huawei is expanding its notebook portfolio with the new MateBook 13.
华为涉足笔记本电脑领域只有几年时间,但继MateBook X Pro等系列获得成功之后,华为又推出了新款MateBook 13,以扩大其笔记本电脑业务。
Starting at $1000 for an Intel Core i5-8265U CPU, 8GB of RAM, 256GB PCIe SSD and 13-inch 2160 x 1440 touchscreen in mystic silver, the MateBook 13 is the company's new mainstream laptop aimed squarely at taking down the new MacBook Air. Like the MateBook X Pro, the MateBook 13 features an all-aluminum body with styling clearly inspired by what Apple has been doing for years.
MateBook 13的起价为1000美元,搭载英特尔酷睿i5-8265U处理器、8G内存、256G存储空间,13英寸触屏,分辨率为2160 x 1440。MateBook 13是该公司最新的主流笔记本电脑,其目标直指MacBook Air。和MateBook X Pro一样,MateBook 13也是全铝机身,设计灵感明显受苹果启发。
When I got to play with the MateBook 13 at a briefing for CES, a Huawei spokesperson even bragged that weighing in at 2.8 pounds and measuring 0.59-inches thick, the MateBook 13 is both thinner and lighter than the new MacBook Air. However, because the MateBook doesn't sport the Air's tapered wedge-shaped design, it doesn't feel quite that slim. Instead, it feels like it's a much closer match to the standard 13-inch MacBook Pro.
在CES的发布会上,华为的一名发言人称,MateBook 13重2.8磅,厚度为0.59英寸,比新款MacBook Air更薄更轻。然而,由于MateBook不具MacBook Air的楔形设计,它看起来并没有那么轻薄,反而更接近13英寸的MacBook Pro。
That said, Huawei hasn't gone full Apple clone, as the MateBook retains a traditional chiclet-style keyboard that's more pleasant to type on than anything in Apple's lineup, along with a handy power button that has built-in fingerprint reader so you can turn on the system and log into Windows with a single touch.
华为并没有完全克隆苹果, MateBook保留传统的巧克力键盘,打字比苹果系列更为舒适, MateBook还有一个方便的电源按钮,内置指纹读取器,轻轻一触就可以打开系统登录Windows。
Inside, Huawei claims it has boosted the MateBook 13's cooling with its new dual-fan Sharkfin 2.0 cooling system. Huawei says its fans move 25 percent more air than the blowers on a typical laptop, which should be a big help for anyone who upgrades to the MateBook 13's optional $1,300 config which features a Core i7-8565U CPU, 8GB of RAM, 512GB of SSD storage, and an Nvidia MX150 GPU with 2GB of VRAM.
在内部,华为称其新推出的双扇鲨鱼鳍2.0冷却系统提高了MateBook 13的冷却性能,风量较传统风扇提升25%。MateBook 13顶配售价1300美元,配置酷睿i7-8565U 处理器, 8G内存, 512G存储,英伟达MX150 GPU和2GBVRAM。
Some might question Huawei's choice only to feature two USB-C ports on the MateBook 13, which is a bit odd considering that there was probably room for more and that MateBook X Pro comes with one USB-A and USB-C port each. So to make up for that, every MateBook 13 will come bundled with a MateBook Dock 2 for free (that normally costs around $70), which expands connectivity via a USB Type-A, HDMI, Ethernet, and VGA ports.
一些人可能会质疑华为MateBook 13只有两个USB-C端口,这有点奇怪,因为MateBook X Pro有一个USB-A和USB-C端口。因此,为了弥补这一点,MateBook 13将免费附带MateBook Dock 2(通常售价约70美元),通过USB type a、HDMI、以太网和VGA端口扩展连接。
All in all, the MateBook 13 looks like a solid and more affordable alternative to one of my favorite laptops of 2018, though I do have two smallish concerns. The first is that the MateBook 13's screen is only rated at about 300 nits, which is about average for a $1,000 laptop. When you compare that to the superb brightness, dense 3000 x 2000 resolution, and vibrant colors you get on the MateBook X Pro's screen, it's a little disappointing. That screen was was easily one of its best features. While the MateBook 13's display looks fine, it's not nearly as good.
总而言之,MateBook 13看起来是可靠而且更实惠的替代品,不过我有两个小小的担忧。首先,MateBook 13的屏幕评级仅为300尼特左右,对于一台售价1,000美元的笔记本电脑来说,这是一个平均水平。当你将其与MateBook x Pro的超高亮度、3000x2000的高分辨率和鲜艳的色彩进行比较时,你会觉得有点失望。屏幕无疑是MateBook x Pro最好的功能之一。虽然MateBook 13的显示效果看起来不错,但远没有MateBook x Pro那么好。
My second concern is that Huawei rates the MateBook 13's battery life at just 9.6 hours for the model with Nvidia graphics, or about 10 hours for the standard config. It's possible that Huawei is just being conservative with its projections, but if those numbers hold true, that means the MateBook 13 might only end up with just mediocre or slightly above average longevity in the real world.
我的第二个担忧是,华为评测搭载英伟达显卡的MateBook 13电池续航时间仅为9.6小时,标准配置为10小时左右。华为的评测可能还是保守的,但如果这些数字属实,这意味着MateBook 13的平均寿命仅为中等或略高于平均水平。。
That said, with a release date set for January 29th, we won't have to wait too long to find out how the MateBook 13 performs for real. And as an alternative to the new MacBook Air, Huawei's attempt at a mainstream 13-inch laptop with Windows is looking pretty good.
随着1月29日发布日期的确定,用不了多久我们就能知道MateBook 13的真实性能。作为新一代MacBook Air的替代品,华为在主流13英寸Windows笔记本电脑上的尝试看起来相当不错。
幸运飞艇彩票雅虎读者评论:
译文来源:幸运飞艇 /46833.html 译者:Jessica.Wu
外文:https://www.yahoo.com
Newengland2last month
Can Huawei create name that not similar to our Apple products?
华为就不能起一个和我们苹果产品不一样的名字?
johnlast month
But it is still a Windows machine and will be outdated within a year and will run really slow within 2 years and replaced within 3 years. If you need to update the operating system that will cost you extra every time.
仍然是一台Windows电脑,一年内就会过时,两年内运行速度就会变得很慢,三年内就会被替换。如果您需要更新操作系统,那么每次都需要额外花钱。
Kennylast month
They can sell a lot of these in China...Who aboard want a notebook with Chinese monitor capabilities?
在幸运飞艇官网能卖出去很多,但在国外有谁想要带中文显示器的笔记本电脑?
Daleklast month
This whole "article" is just an ad for this new Chinese laptop. "Huawei Is Going Hard at the MacBook Air With Its New MateBook"? How can any PC or Laptop that is running Windows be any more of a challenge to a Mac than any other PC or laptop running windows? It doesn't matter who makes it, it's still running windows, therefore it is not a Mac and no threat to Apple.
整篇"文章"就是给这款新幸运飞艇官网笔记本电脑打广告。有哪一款运行windows系统的笔记本电脑能比得过Mac?不管什么牌子的,只要是运行Windows系统,对苹果Mac都构不成威胁。
pie in the skylast month
Wonder how much of inside electronics is copied from MacBook? No IP protection in China. We as a country need to fix that.
内部电子有多少是抄袭MacBook的?幸运飞艇官网没有知识产权保护,我们需要解决这一问题。
Mikelast month
I was in China last year and checked out numerous Huawei retail shops. Their staff wore red shirts, jeans and their stores had floor-to-ceiling clear windows, large print ads of their products hanging, long wooden tables holding a handful of their products, items neatly stacked on shelves on the wall, a handful of stools and their own service area buzzing with activity. In other words, the Huawei store strongly resembles that of an Apple store. They even copied the store layout.
去年我去了幸运飞艇官网,参观了很多华为零售店。他们的员工穿着红衬衫、牛仔裤,商店里的窗户是落地式的,墙上是大尺寸的产品印刷广告,长长的木桌上摆放着产品,物品整齐地堆放在墙上的架子上,还有一排高脚凳。换句话说,华为商店和苹果商店非常相似,他们甚至复制了商店的布局。
Usagilast month
It could be the best product ever. I won't buy it tho. It's Huawei,
这可能是有史以来最好的产品,我才不信呢。
PowerUplast month
China products = copy Cat. No thank you.
幸运飞艇官网产品=山寨货,不需要,谢谢!
Thewaylast month
Buying only Chinese products. We all should support that great country
只买幸运飞艇官网货,我们都应该支持那个伟大的国家。
hotdognobunlast month
Still no thanks and not welcomed here in the US
不需要,谢谢,在幸运飞艇彩票不会受欢迎的。
Billlast month
Its pretty clear that because Apples prices are non-competitive, Huawei is the future of home computing. Apple is unaffordable.
很明显,由于苹果的价格没有竞争力,华为是家用电脑的未来。苹果太贵了,买不起。
Darwin loves bitcoinlast month
Stop saying every laptop is a macbook.
不是所有笔记本电脑都叫macbook。
Anthonylast month
Why so many positive articles about Huawei lately, Yahoo?
为什么最近有那么多关于华为的正面文章,雅虎?
Proving Bigots Wronglast month
Sad thing is, this is actually a better laptop than the air minus the webcam position and fan noise
可悲的是,这实际上是一台比air更好的笔记本电脑。
Mlast month
Yes, indeed... Word on the street is that they are changing the name fro huawei to Mapple.
有传言称,他们要把华为的名字改为Mapple。
Angellast month
Lots of people worried about Huawei spying. They should. I ordered pizza on my huawei phone and a guy delivered Chinese takeout instead.
很多人担心华为产品有监视功能,确实应该担心,我用华为手机点了披萨,结果有个人给我送了中餐外卖。
Denislast month
Huawei's success should be a good thing. So the US is not the only dominator in the world.
华为的成功应该是件好事,幸运飞艇彩票不是世界上唯一的主宰。
Laylast month
Macbook
Matebook
LOL How orginal
Macbook
Matebook
哈哈,多好的原创!
Denislast month
If you think Huawei copies Apple then Apple copies 5G technology from Huawei.
如果你认为华为抄袭苹果,那苹果也抄袭了华为的5G技术。
Mr. Logicallast month
Chinese product article on yahoo. Some reporters are actually the enemy of the people.
雅虎发布关于幸运飞艇官网产品文章,有些记者实际上是人民的敌人。
binlast month
And it will break in a few weeks
几周后就会坏掉
Mercurylast month
The name MateBook Pro says is all.
MateBook Pro这个名字说明了一切。